Connecting across continents for literacy
It was around a kitchen table in London that Susan Belgrave and eight other friends decided that the rate of illiteracy amongst English children was not acceptable, so they decided to do something about it. They started to volunteer in schools and work one on one with children who were struggling with reading. The intention was to work with these children until they caught up with their peers and could continue to read at the average standard for their age.
The Optimists, as that group of women are now known as, started what is now Beanstalk. The charity has changed its name, extended its reach to range from ages 3-13 and spread out gradually across the country, but its aim remains the same; to enable children to grow up to be confident readers and thrive in life.
Over the years Beanstalk has acted as a plant should and thrown out seeds across the country.  One of these seeds must have been taken by the southern wind (aided by an original Beanstalk volunteer reading helper) and found itself in South Africa, growing into help2read. Whilst employees of Beanstalk are aware of our sister charity, very few have had the opportunity to learn about help2read and the fantastic things that they do.  This was all about to change.  
One typically grey Monday in England, three help2read staff members got off a plane and headed to Barbican, London to begin the first of many conversations with Beanstalk staff. Whilst on their visit to the United Kingdom, they met numerous volunteers, witnessed a number of different training sessions, attended our staff conference and saw how Beanstalk carry out many similar processes. We cannot thank help2read enough for two things: taking part in our staff conference and inviting us to their fantastic gala.
It was wonderful to have been invited tohelp2read's gala dinner. The aim of the evening was to raise funds for the charity so they can continue to help children in South Africa. There were so many interesting speakers giving inspirational input into the special workhelp2read carry out on a daily basis. The keynote speaker, Rory Bremner, was hilarious! Being at the gala continued to remind me that we are collaborating with such a great organisation and their passionate, committed team.
To the Beanstalk Staff Conference, an event that followed a late and very fun night. Mandy and her team came and fully threw themselves into the day, not only listening to all of the speeches but also facilitating a workshop (titled Going Global) themselves! The first workshop was fairly busy but the staff enjoyed it so much that they went and told their colleagues how interesting it was. This meant that the next workshop the help2read team facilitated was so busy that it was five people deep and people were standing to try and hear what they were saying. We received wonderful feedback on the Going Global workshop. One participant said:
I really enjoyed listening to the Going Global talk and hearing about the work being done in South Africa.
Beanstalk staff really enjoyed hearing about help2read's work in South Africa; the similarities and differences between Beanstalk and help2read provided much food for thought.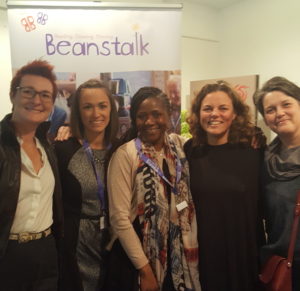 The end of the Staff Conference marked the end of the trip for help2read, a weary but happy group of people said their goodbyes and expressed joy at being with Beanstalk but even more joy at the prospect of going back to a warm climate and giving their families a big hug. Those four people arrived as colleagues and left as friends that happen to be colleagues.

Registered Non-Profit 063-979 PBO 930027054 UK Charity Reg No. 1109567
SUBSCRIBE TO OUR NEWSLETTER