Standing for Literacy means being eager to learn and teach those who are hungry for knowledge to succeed in the future in making the world a better place.
It can be children or adults, even if they are not at school. We have children at school who are there to learn as it is their rights to do so and we also have adults who are attending Abet schools because they want to learn and make the best out of their lives. Like they say education is a key to a better tomorrow. We learn everyday either on television, radio, in the streets, everywhere we learn. There is no set age for learning as there are new things to learn every day.
Never limit your mind from exploring as literacy is more than just reading and writing. It is a tool for meaningful communication with society. As our population expands and technology breaks down ever more barriers between us, the ability to communicate and interact with those around us becomes even more important. Illiteracy doesn't mean ignorance. We can and should learn from everyone and we must provide other avenues to global citizenship for those who can't read and write.
Literacy is the way that we interact with the world around us, how we shape it and are shaped by it. It is how we communicate with others via reading and writing, but also by speaking, listening, and creating. It is our charge as Literacy Tutors to embrace literacy in ALL of its forms.
How to encourage a learner:
Focus on students' own stories.

Embrace ALL of the languages your students speak.

Provide regular access to diverse stories, images, experiences, and perspectives.

Place value on reading, writing, speaking, listening, and creating in your students' work.

Read aloud together, and often.
Let's celebrate our nation and colour it with education for all living in it. Happy Youth Day as we honour the legends of 1976.
"History is written by the victors."
Written by: Jacqueline Molokomme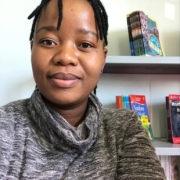 Registered SA Non-Profit 063-979 PBO 930027054 UK Charity Reg No. 1109567 Registered Office: Oak Farm Cottage, Mill Street, Gislingham, Suffolk, IP23 8JT
SUBSCRIBE TO OUR NEWSLETTER